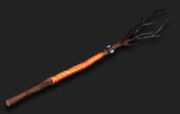 The Wind Staff is a scrapped mystical staff weapon. Originally planned for the Wind God Fujin to use in the early versions of Mortal Kombat: Armageddon, it was replaced with the Devastator. A concept art can be found for this object in the game's Krypt.
Some beings say the mysterious "Forest Crystals" adorning this ancient tree branch is the source of the Wind God's power.
Gallery
Community content is available under
CC-BY-SA
unless otherwise noted.