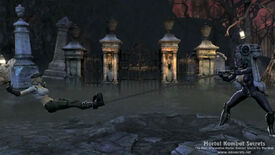 A whip is a long flexible weapon made of either rope or chains used in some Asian martial arts. Whips were formerly used for control over animals or other people, through pain compliance or fear of pain, but overtime the use of whips extended into martial arts. The most commonly used types in fighting are chain and single tailed.
A single tailed whip can inflict long cuts, wrap around the neck for choking, and stagger others with continuous quick strikes. Chain whips are heavy but flexible, allowing for severe slashes, bind opponents to restrict their movement, and to deflect blows from other weapons.
Mortal Kombat
Whips first appear in the Mortal Kombat franchise in Mortal Kombat vs. DC Universe, used by Catwoman.
In Mortal Kombat X, Takeda Takahashi uses two long serrated edged whips concealed in his gauntlet that he received from Fujin. They are launched at high speeds for maximum striking power and can be electrified for increased damage. Similar to Scorpion with his Kunai, Takeda can also use his whips to pull his opponents toward himself to inflict further damage.
Skarlet uses a blood whip in Mortal Kombat 11.
Gallery
References
Community content is available under
CC-BY-SA
unless otherwise noted.