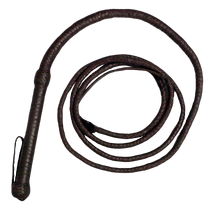 A whip is a long flexible weapon made of either rope or chains used in some Asian martial arts.
In Mortal Kombat
Catwoman makes use of her infamous whip in Mortal Kombat vs. DC Universe, utilizing it during gameplay and during her Fatalities.
In Mortal Kombat X, Takeda Takahashi uses two long whips with hidden blades concealed in his gauntlets that he received from Fujin. They grant Takeda the ability to attack at longer distances while using whip attacks inspired by his master Scorpion and his Kunai. In the Lasher variation, the whips gain an orange glow.
In Mortal Kombat 11, with the use of her Blood Magik, Skarlet utilizes a Blood Whip in addition to various other weapons created with blood.
Gallery
References