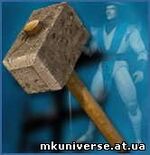 The War Hammer is an ancient weapon and a weapon style made by the Thunder God Raiden. It first appeared in Mortal Kombat 4 and Mortal Kombat Gold. It was also later featured in Mortal Kombat: Deception. It is one of his two mystical and electrically charged weapons, the other being his staff.
The god of thunder Raiden used this weapon in join with his chosen defenders of Earthrealm to aid in their fight against the fallen Elder God Shinnok and his Army of Darkness in a battle to save the realms once more.
After the Mortal Kombat heroes' battle with the evil master of the Netherrealm, Shinnok, Raiden placed his War Hammer at the top of his sacred Sky Temple in Earthrealm where it is safe until it is needed.
It is the weapon found in some of the arenas in Mortal Kombat: Armageddon and picked up if a character isn't currently holding a weapon.
Gallery
Community content is available under
CC-BY-SA
unless otherwise noted.