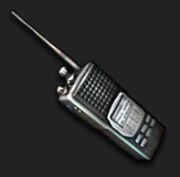 This Walkie-Talkie (more formally known as a handheld transceiver) is a hand-held, portable, two-way radio transceiver used by police forces in Earthrealm. It first appeared in Mortal Kombat 3 and later reappeared in the Konquest mode of Mortal Kombat: Armageddon as a collectible Relic, called Stryker's Radio, since Officer Kurtis Stryker of the NYPD used this portable radio to communicate with fellow officers of the law.
Gallery
Community content is available under
CC-BY-SA
unless otherwise noted.