MK2 Battles found in MK:Unchained's game files, accessed through cheats.
I found this out awhile back a few years ago, but it was only recent that I decided to speak up since I never saw any info about it on the internet. Basically, I use a program called
PPSSPP
 to play emulated PSP games. One of the emulated games I play a lot is
Mortal Kombat: Unchained
. While using cheats in the emulator, you can access game characters that the player would never normally be able to fight or play as. I used this same program to get the angle shots of
Monster
 that I updated awhile back, and they're still there to this day.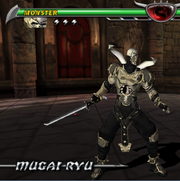 With my curiosity, I found what appeared to be multiple MK2 fights that was in the game, but only accessible through cheats. What I found (and what is currently my theory) is the reminisce of scrapped MK2-like styled fights. I'm thinking that the developers probably had a klassic MK2 tower-type of nostalgia gamemode idea going on by the looks of it. I made an unlisted video with a crappy trial screen recorder to show someone what I was talking about here on the wikia, and I'll provide that as well. It's understandable to be a sceptic to what you're about to see, but you can get the emulator and use the same cheats I did yourself, and get the same result.
There were in total sixteen MK2 battles. Here is the list:
1. MK2 Battle Liu Kang
2. MK2 Battle Kung Lao
3. MK2 Battle Johnny Cage
4. MK2 Battle Sub-Zero
5. MK2 Battle Kitana
6. MK2 Battle Jax
7. MK2 Battle Mileena
8. MK2 Battle Baraka
9. MK2 Battle Raiden
10. MK2 Battle Scorpion
11. MK2 Battle Jade
12. MK2 Battle Smoke
13. MK2 Battle Noob Saibot
14. MK2 Battle Shang Tsung
15. MK2 Battle Kintaro
16. MK2 Battle Shao Kahn
To the right is the video I talked about, and do forgive me for using such a crappy trial screen recorder. My objective was to quickly explain and show what I found, and I wasn't thinking about making it look pretty.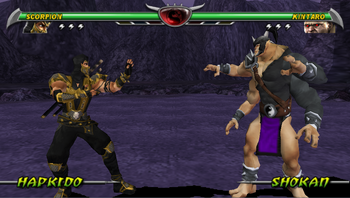 Here is the first screenshot of the Kintaro figure I mentioned. Apparently he was planned to be in this game, but as you can see it's obviously just Goro's alternate attire with a purple cloth. His model is very low quality and It's easy to tell that this is unfinished. What do you guys think? I'd love to hear everyone's opinion.
Community content is available under
CC-BY-SA
unless otherwise noted.