It be a horrible jurneh soe fahr. We wock pass teyribill dryver hew ulmoset run oveh meh partneh, Johnny XD.
Johnny XD:XD!
Me:What? You found the boat to the prison... thing.
Johnny:XD XD XD XD!
Me:You should just shut up, okay? Last time you did the talkin' we were almost killed by that vampire kitty!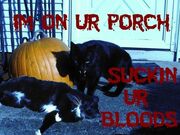 Ugh, that wasn't pretty.
Me: Johnny, guy, uh... cat, what ever I should call ya, this'll be hard to say, but:
Johnny:XD!
Me:I know you took it hardly, Johnny, but its
Johnny:XD!
Me:Eh, what ever.
Wun bote tripp laiter:
Me:Well, it duz look peacef...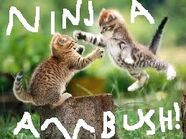 Johnny:XD!
Me:(Wetz meh panties!) Holy crapperz, itz teh ninjeh dawggehz!
Dawggeh:Woof.
Johnny:XD!
Me:Run!
Wun cahrtewn-like chais laiterr...
Me:OH NOES! We be tied up!
Dawggeh:Yeah! And yeh cant escape from us, stupid... uh.... thing!
Me:No more mister nice kitty! It be on now!
Johnny:XD!
Me:Thats right Johnny, I'm your new h--
Johnny:XD!
Me:Ay caramba. Lets just get out of where ever it is that we are, because the writer didn't describe were we are one bit. But I'm guessing its dusty.
Johnny:XD, XD, XD.
Me:GASP! Johnny! Your a genius! Were in the jail!
Johnny:XD!
Part 2, In Teh Navy!, kumz next weak frum ElectricMayhem!
Be sherr 2 reed it!
Or ells teh dawggeh will get ya!
Bye, weirdos!