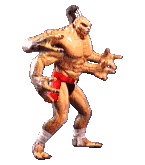 Hi,
I have been a Mortal Kombat fan ever since the first game relesed on the SNES. Mortal Kombat was one of the best things EVER to me! For my userna
me I decided to combine my four favorite MK characters Stryker, Sub-Zero, Reptile, and Ermac, but there are many characters I like, and many that I am good with. I will also be making many edits on their pages, I also show pictures a lot so look foward for some of my editions to this website. And I have recently came to like Street Fighter, after playing Super Street Fighter IV, and here is my account on the SF Wiki. That's it for now.
FAVORITE FACTION: Lin Kuei
FAVORITE GAMES: MK (2011), MK: Armageddon, MK: Deception, MK Trilogy, MKII
LEAST FAVORITE CHARACTERS: Hsu Hao, Jax, Sheeva, Cyber Sub-Zero
FAVORITE CHARACTERS: Ermac, Sub-Zero, Reptile, Stryker
OTHER CHRACTERS I LIKE (In Order)
2D: Rain, Sektor, Nightwolf, Kitana, Smoke, Cyrax, Raiden, Kung Lao, Kabal, Noob
3D: Dairou, Fujin, Kenshi, Sareena, Reiko, Havik, Taven, Quan Chi, Tanya, Kai
Bosses: Goro, Onaga, Shinnok, Blaze, Motaro
Favorite Pages
Mortal Kombat (2011 video game)
Gallery
Other Series I Like
10. Street Fighter
9. Sonic the Hedgehog
8. Kid Icarus
7. Pikmin
6. Kirby
5. Ninja Gaiden
4. Super Mario Bros.
3. Star Fox
2. Mortal Kombat
1. Super Smash Bros.
Community content is available under
CC-BY-SA
unless otherwise noted.