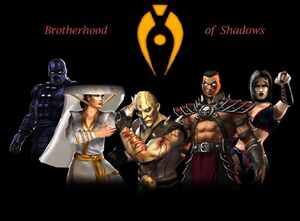 What's up everybody? Name's
B1bl1kal
(my codename which conceals my real name
Ruben
. lol) & I'm still livin' in the U.S. I'm still currently a volunteer worker at the DAVA (Downtown Aurora Visual Arts) art studio on every Thursday.
I'm been enjoyin' doin' some public service sometimes on the side while still enjoying & preserving the world of Internet like any other normal person there is. Amazing what we can do with technoIogy these days.
& I'm always there to help out check & fix all whatever problems y'all got with spelling, grammer, accurate info, research, finding right pictures & & stuff like that. Not to mention termology, and most of all, a clear & free open mind. I mean coohhmme oon! But hey, I was born a perfectionist: it's what I do. But hey, I'm no bad guy & am not so perfect. Only ahead of the curve. Don't cha judge me!
Mortal Kombat is one of my favorite fighting videogame series since I've played the first Mortal Kombat game. It was hard, yet it was fun.
My favorite pages
Arenas
Locations
Artifacts
Gallery
Community content is available under
CC-BY-SA
unless otherwise noted.