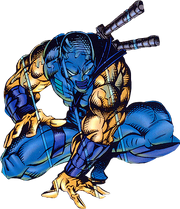 The Twin Katanas are two blades of the same type. They are used by Tasia in Mortal Kombat: Special Forces and by Hydro in his appearances in the Mortal Kombat: Blood & Thunder comic series.
In MK 2011 and MKX, Scorpion makes use of dual katanas. In MK 2011, the design of the katanas vary depending on Scorpion's current costume. In MKX, when Scorpion makes use of his Ninjustu variation two katanas are secured on his back and gains unique attacks utilizing them.
Even before that however he seemed to already have twin katanas secured on his back in Deadly Alliance, Deception and Armageddon.
Gallery