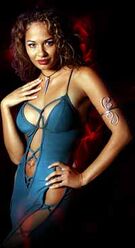 Tracy Douglas (born January 1st, 1969[1]) is an actress, producer and writer. She is best known for playing Vorpax in Mortal Kombat: Conquest.
Douglas started her acting career as an extra for the film Boomerang starring Eddie Murphy. She later appeared in several television shows and films such as American Playhouse, The Watcher, Backfire! and The Single Guy.
In 1998 she starred in Mortal Kombat: Konquest as Vorpax. Her role as Vorpax is probably her most popular performance. She appeared in 17 out of the 22 episodes for the series. Since her appearance as Vorpax she only appeared in one TV Series, One on One and one film, Santa and Pete.
In 2006 Douglas appeared as Ambassador Tracy for a short film, titled "One Wee World Celebrates Mexico", which she produced and wrote. In 2009 she appeared in the short film Fruit Loops as Nurse, which she co-produced and in 2010 she was in the short film Written Off as The Dame. Both of these short films were made for The Madison 48 Hour Film Project. These films were made in 48 hours or less and were made to compete with others who entered the 48 Hour Film Project contest.
Gallery
References
Community content is available under
CC-BY-SA
unless otherwise noted.