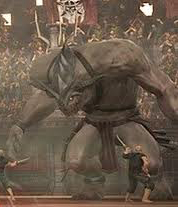 The
Tormentors
are monstrous beasts that have been seen in several places during
Mortal Kombat (2011)
. One of them appears in the back of
Shao Kahn's Coliseum
as well as in the background of
The Street
fighting police during the Konqueror's invasion of
Earthrealm
. Another Tormentor can be seen dead in the
Wasteland
.
A model of a Tormentor can be found in the Krypt of Mortal Kombat (2011).
In one of Raiden's visions, a Tormentor can be seen destroying a city alongside a horde of Tarkata.
During the Story Mode of Mortal Kombat (2011), Stryker and Kabal decide to go down to street level, and as they look outside of a window, several soldiers can be seen running by. Shortly after, loud stomping noises are heard as a Tormentor is seen walking by, with its chains dragging loudly behind.
Gallery
Community content is available under
CC-BY-SA
unless otherwise noted.