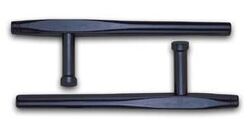 A Tonfa, also known as tongfa, tuifa, or tonqua, is a melee weapon best known for its role in the armed component of Okinawan martial arts. It consists of a stick with a perpendicular handle attached a third of the way down the length of the stick, and is about 15–20 inches long. It is traditionally made from red or white oak and wielded in pairs. Tonfas are believed to have originated in either China or Southeast Asia, where they are used in the respective fighting styles. They are also the inspiration for the modern, side-handled police baton.
Tonfa in in Mortal Kombat
Jax is the first known character to use this type of weapon in the series in Mortal Kombat: Deadly Alliance, Mortal Kombat: Unchained, and Mortal Kombat: Armageddon. Officer Kurtis Stryker, in his appearance in MK: Armageddon, would use his Nightsticks in a similar way to Jax's.
The traitorous Edenian Tanya makes uses of bladed Tonfas known as Kobu Jutsu.
In the 2021 film Mortal Kombat, Cole Young's Arcana armor grants him with a set of tonfas and one of them is bladed which he used to kill Goro. Later, he fought Sub-Zero with his tonfas.