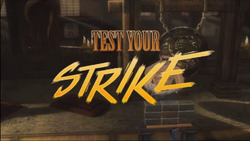 Test Your Strike is a minigame which made its debut in Mortal Kombat (2011). It involves hitting a specific block in a stack of blocks by striking with enough force not to break any of the other blocks surrounding it. It is a simple jump that it is similar to Test Your Might, but with an upper limit as well as a lower limit, which is the threshold in which the strike's strength must be set if this test is to be passed.
Test Your Strike Levels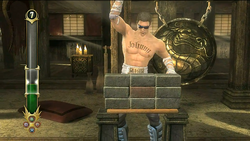 Level 1 : Bricks as Johnny Cage
Level 2 : Human Skulls as Reptile
Level 3 : Severed Heads as Baraka
Level 4 : Soul Box as Smoke
Level 5 : Diamond Bricks as Jax Briggs
Level 6 : Gold Bars as Cyrax
Trivia
Smoke is the only character who will die if failing the strike. If the others fail the strike, they will scream in severe pain and hold up their supposedly broken arm. If Smoke fails, the lock on the soulbox will close shut, leaving Smoke's forearm stuck in the lock, as the soulbox consumes his soul and eventually, kills him.
See also
Community content is available under
CC-BY-SA
unless otherwise noted.