No Man's Sky Update - The Loop
Play Sound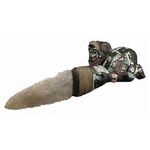 The Tecpatl is a weapon used by Kotal Kahn. It is an Aztec knife that is most commonly used in Aztec human sacrificing rituals that involve pulling out the human heart.
General Characteristics
The Tecpatl was a 10 inch knife with a lanceolate shape. Its handle is made of bone, while the blade of the weapon is made of flint or obsidian stone, which is known to be sharper than steel because of its finer grain structure. Traditionally, it was used for human sacrifices by the Aztecs. But, it can also be used as a side arm during a battle. It was also the short range weapon of the Aztec jaguar warriors. Although it has limited use on the battlefield, the Tecpatl's sharp edges would have made it an effective sidearm. [1]
In Mortal Kombat
In Mortal Kombat X, it is one of the weapons used by Kotal Kahn. The Tecpatl was used in Kotal's intro when he slices his palm with the Tecpatl and blood rushes down. The other uses of the Tecpatl were seen in Kotal Kahn's X-Ray move and one of his Fatalities. [2]
Trivia
Kotal Kahn's Tecpatl was different from ordinary Tecpatls. Kotal's Tecpatl looks serrated and it is longer than normal Tecpatls.
Gallery