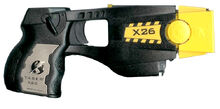 A Taser is an electroshock weapon that uses electrical current to disrupt voluntary control of muscles.
In Mortal Kombat
In the franchise, befitting his occupation as Law Enforcement, Officer Kurtis Stryker would frequently make use of tasers in his special moves and Fatalities. In Mortal Kombat (2011), Stryker would also use his Taser in a throw and at the end of his X-Ray move.
In Mortal Kombat Mobile, Cassie Cage's Strike Force Card uses a taser for her Special 2 attack. This is the only time Cassie has ever used a taser and is exclusive to MK Mobile.