A Taser is an electroshock weapon that uses electrical current to disrupt voluntary control of muscles. The Taser fires two small barbed dart-like electrodes intended to puncture the skin, which stay connected to the main unit by conductive wire as they are propelled by small compressed nitrogen charges similar to some air gun or paintball marker propellants. The darts are connected to the main unit by thin insulated copper wire and deliver a modulated electric current designed to disrupt voluntary control of muscles. The effects of a Taser device may only be localized pain or strong involuntary long muscle contractions, based on the mode of use and connectivity of the darts.
Drive Stun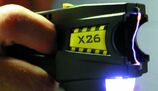 Some Taser models, particularly those used by police departments, also have a "Drive Stun" capability, where the Taser is held against the target without firing the projectiles, and is intended to cause pain without incapacitating the target. This is done by activating the TASER device and placing it against an individual's body. This can be done without an air cartridge in place or after an air cartridge has been deployed.
In Mortal Kombat
In the franchise, befitting his occupation as Law Enforcement, Officer Kurtis Stryker would frequently make use of tasers in his special moves and Fatalities. In MK (2011), Stryker would also use his Taser in a throw and at the end of his X-Ray move: Busted. Originally Stryker was supposed to have a long ranged taser attack just like he did back in MK: Armageddon, but this was scrapped for unknown reasons.
Community content is available under
CC-BY-SA
unless otherwise noted.