Fire Emblem Warriors: Three Hopes - The Loop
Play Sound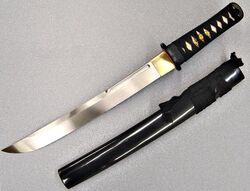 A Tanto ("短刀" "Short Sword", or "Dagger") is the smallest sword carried by the samurai, meant for close quarters combat. It is also used in seppuku, the ritual suicide used to regain honor through death, also known in Mortal Kombat as Hara-Kiri.
In Mortal Kombat
In Mortal Kombat (2011), Skarlet uses a pair of tantos as her weapons, which she uses along with her ability to manipulate blood.
In Mortal Kombat 11, it is seen above Scorpion's katana on his waist. Skarlet uses one as well, however they received an update in appearance. She uses the dagger both as a lethal weapon and as a based to create a Blood Sword to enhance the reach of her blade alongside the other weapons she conjures with with her Blood Magik. She also displays this during some intros and outros. Both kombatant's tantos are customizable through the game's gear Kustomization. While Skarlet's can be customized individually, Scorpion's tanto changes based on what katana he has selected.
See also