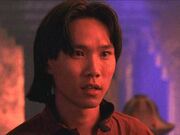 Steven Ho is a Chinese-American martial artist, entrepreneur, stunt coordinator, stuntman, and member of the Academy of Television Arts & Sciences.
Known as one of the first martial arts tricksters in open martial art competitions and early pioneers of non-traditional forms (NASKA), Ho helped to popularize the 540 kick and the Hawkeye Kick in the mid-eighties. Many consider Ho's influence, particularly his 540 kick, to be the beginning of the tricking movement.
Ho is also well regarded for his stunt work as Donatello in Teenage Mutant Ninja Turtles II: The Secret of the Ooze (1991) and Teenage Mutant Ninja Turtles III (1993), and his role as Chan in Mortal Kombat (1995).
Ho is a well known martial arts instructor and film fight trainer in Hollywood who has trained many notable stuntmen and actors, including Brad Pitt, Leonardo DiCaprio, James Franco, Pierce Brosnan, Tobey Maguire, Pink, Method Man, Rachel Weisz, Gisele Bündchen, Josh Charles, Peter Krause, Bar Refaeli, Ellen Barkin, Brad Womack, Britney Spears.
For the much anticipated Britney Spears music video, Hold It Against Me, Ho trained Spears and fight choreographed the Britney vs. Britney fight for director, Jonas Åkerlund.
Ho co-founded Plush Home, Inc., an all-encompassing interior design firm and furniture line, in 2003 with his wife, Nina Petronzio, an American Interior Designer and Furniture Designer known for her high end Transitional Style designs.
Community content is available under
CC-BY-SA
unless otherwise noted.