No Man's Sky Update - The Loop
Play Sound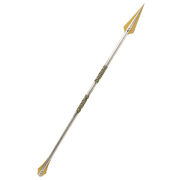 The Spear is a polearm consisting of a shaft, usually of wood, with a pointed head. The head may be simply the sharpened end of the shaft itself, as is the case with fire hardened spears, or it may be made of a more durable material fastened to the shaft, such as bone, flint, obsidian, iron, steel or bronze. The most common design for hunting or combat spears since ancient times has incorporated a metal spearhead shaped like a triangle.
In Mortal Kombat
The spear is held by the Masked Guards in Mortal Kombat, Mortal Kombat II, Mortal Kombat Trilogy, Mortal Kombat: Deception and Mortal Kombat: Unchained. In some games like Mortal Kombat: Shaolin Monks and Mortal Kombat (2011), they carry Naginatas instead.
In Mortal Kombat II, Shao Kahn uses a green energy spear that he summons using his magic, however he does not use it in Mortal Kombat 3, Ultimate Mortal Kombat 3 and Mortal Kombat Trilogy. Shao Kahn would later use the spear again in Mortal Kombat (2011) and Mortal Kombat Mobile. It reappears in Mortal Kombat 11 now with a physical appearance, but is still summoned like the original Light Spear. Additionally, it is one of three customizable gear items for Shao Kahn. Shao Kahn's spear is used in many of his combos, specials, Fatal Blow and one of his Fatalities.
In Mortal Kombat: Deception and Mortal Kombat: Unchained, Baraka's Tarkatans are seen using spears. In Sindel's Arcade ending, she and Jade use a special spear to finally kill Onaga.
Motaro is also seen using a spear to kill Johnny Cage in Mortal Kombat (2011) in one of Raiden's visions during the game's Story Mode.
Gallery
Trivia
See Also