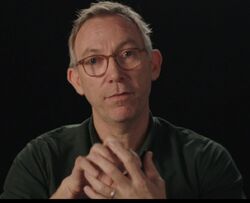 Simon McQuoid (born April 23, 1984) is an Austrailan director.
McQuoid was born in Perth, Australia.
He is known for directing commercials.
He made his feature film directorial debut in Mortal Kombat, the 2021 reboot of the Mortal Kombat film franchise.
In HBO Max's "Meet the Kast" featurette, he explained his desire to have something elegant and beautiful co-habitating with something brutal and primal in making the film. In another of these featurettes, Fight Koreography, he states that one of the first questions he was asked when pitching the film was how he felt about the blood and the violence. He replied that there is much more to it than that.
Community content is available under
CC-BY-SA
unless otherwise noted.