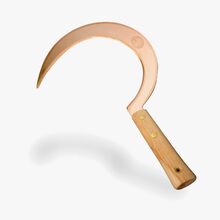 See also: Kama
A sickle, is a hand-held agricultural tool designed with variously curved blades and typically used for harvesting, or reaping, grain crops or cutting succulent forage chiefly for feeding livestock, either freshly cut or dried as hay. The blade's curve is sharp enough that it's been used as an improvised weapon.
Within the Mortal Kombat series, it is first seen used by members of the Brotherhood of Shadow in Shaolin Monks as their sole weapon of choice, snagging and tossing their opponents around with them or tossing them at their opponents. In Mortal Kombat 11, Bi-Han employs the use of alongside his shadow. When not in use, he keeps the weapon "sheathed" by hooking it into his back and poking through his chest. Kollector and Kotal Kahn also have sickles in their arsenal.
Community content is available under
CC-BY-SA
unless otherwise noted.