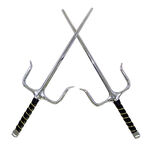 Sai blades are weapons used by various ninjas. Sai are a very specific type of dagger. Mileena is the traditional user of the Sai blades in the series; however, Li Mei borrowed them in Mortal Kombat: Deadly Alliance due to Mileena being absent in the game. Sareena also used the Sai in Mortal Kombat: Tournament Edition. Khameleon also uses them in Mortal Kombat Trilogy. Kitana also used the Sai in Mortal Kombat 11, when wielding she will borrow some moves from Mileena such as her Teleport Drop. Mileena uses the Sai as her handweapon, but also uses them as a projectile. The Sai are frequently included in her Fatalities as well.
Gallery
Community content is available under
CC-BY-SA
unless otherwise noted.