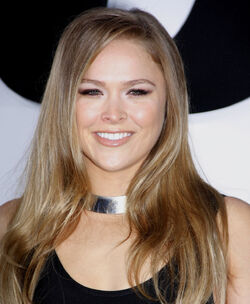 Ronda Rousey (born February 1st, 1987) is a professional wrestler, actress, author, mixed martial artist and judoka. Rousey is currently employed with WWE as a professional wrestler, where she performs on the Raw brand.
Rousey serves as the voice actress for Sonya Blade in Mortal Kombat 11.
Trivia
During one of Cassie Cage's texting intro when she's getting ready to battle Frost, there was an Easter egg with the name Ronda where she tells Cassie to stream her fight with Frost.