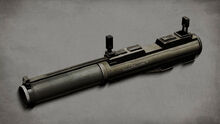 The Rocket Launcher is a firearm that launches an unguided, rocket-propelled projectile, although the term is often used in reference to mechanisms that are portable and capable of being operated by an individual.
In Mortal Kombat
a sci-fi stylized rocket launcher is one of the weapons Jax can use in Mortal Kombat: Special Forces. Enemies in the game belonging to the Black Dragon clan also make use of rocket launchers.
In Mortal Kombat (2011), during a cutscene in Chapter 7, Kano and Shang Tsung can be seen loading up and then firing RPG-7s in the Living Forest.
In Mortal Kombat X, Jax utilizes a rocket launcher in his Heavy Weapons Variation, replacing his Energy Wave for that variation. Jax can also dash-cancel the attack, allowing him to open to opponent up or continue combos. It is also an obtainable item in the Krypt.
In Mortal Kombat 11, guest character RoboCop utilizes a wrist-mounted rocket launcher called Arm Crowd Control Cannon, an Equip Ability that has him fire a rocket straight at his opponent. He can also delay the rocket after firing it, where it hovers in front of RoboCop for a moment before flying at the opponent. He also fires it during his Throw (Backward), regardless if the ability is equipped or not.
Gallery
Trivia
The Rocket Launcher used by Jax in his Heavy Weapons Variation, appears to be based on a M72 LAW.