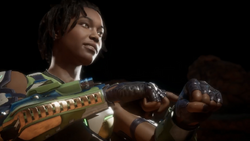 Powered Gauntlets are weaponized gauntlets used by Jacqui Briggs in Mortal Kombat X and Mortal Kombat 11. The way they increase her strength is most likely to emulate Jacqui's father, Jax.
In Mortal Kombat (2011), Jax initially uses powered gauntlets before losing his arms to Ermac and having them replaced with his Bionic Arms, granting him the same enhanced strength and gameplay effects like his Bionic Arms.
Jacqui utilizes different gauntlets between games, which ultimately change her fighting style. She has three variations that affect her gauntlets in Mortal Kombat X. Utilizing her Shotgun and High Tech Gauntlets allow her a more close to medium range fighting style, while her Full Auto gauntlets are equipped with both machine guns and rocket launchers, allowing her to strike the opponent at a longer range. Her gauntlets can also be powered up to emit an eruption in the ground that can damage opponents if they are too close.
In Mortal Kombat 11, she can now propel herself into the air to get to her targets with ease. The weapons within the gauntlet change based on her Equip Abilities. Each gauntlet can be customized separately through the game's gear Kustomization. The color of the gauntlets change based on Jacqui's current outfit.
Gallery
Jax
Jacqui