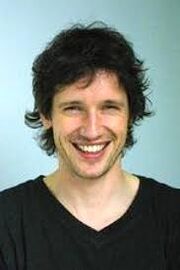 Paul William Scott Anderson
(born
March 4
,
1965
in
Newcastle-upon-Tyne
,
England
) is a film director who regularly works in sci-fi
movies
and video game adaptations. One of them is the Resident Evil film series.
He directed the successful 1995 video game adaptation Mortal Kombat. While prior video game movies, like Street Fighter and Super Mario Bros, had been all-out disasters, Mortal Kombat was well received by fans, and some critics. He declined to direct the sequel, Mortal Kombat: Annihilation which was not well received by critics or fans. Anderson was asked to direct a third movie, Mortal Kombat: Devastation, but declined again.
The success of Mortal Kombat gave Anderson free reign to choose his next project, Soldier, written by Blade Runner screenwriter David Webb Peoples. Intended as a Sidequel to Blade Runner, the movie was set in the same universe (but not the same planet), and contained numerous references to Blade Runner. Kurt Russell was attached to star, but was unavailable at the time, which delayed the production. In the meantime, Anderson made Event Horizon Event Horizon, which took the premise of the classic sci-fi novel and film Solaris, but filled it with Hellraiser-style horror scenes. The film was poorly received at the box office, and Anderson blamed the failure on studio-enforced cuts. While not a box-office success, the film gained a small cult following.
External links