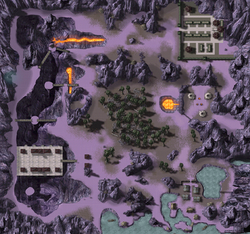 Outworld is one of the six main realms in the Mortal Kombat series of fighting games.
About Outworld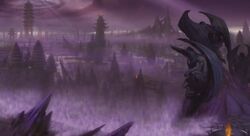 Outworld's known history goes back millions of years and points at Onaga the Dragon King as its first known ruler. Although he would eventually be supplanted by Shao Kahn, they both shared the same vision: expanding Outworld by taking other realms by force. Unwittingly, both were being controlled by echoes of the One Being. Partially as a result of the despotism both emperors displayed, Outworld is in a constant state of turmoil, albeit more so under Shao Kahn than under Onaga.
Outworld is a large and often hostile realm of varying landscapes, owing to its nature as a composite realm encompassing an unknown amount of conquered and merged realms. Its primary landscapes appear to consist of barren wastelands, vast deserts, molten caverns, pools of acid, dense forests with animated faces, sinister temples and shrines, and high mysterious mountain peaks. Outworld boasts many powerful, fearsome races and deadly monsters. Small villages can be found scattered throughout the landscape and, much like Edenia, the realm teems with magic. However, aside from the cities of Lei Chen and Z'Unkahrah, no real metropolises have been seen in the series. Based on the few cities and villages that have been seen, both the architecture and material culture of Outworld bear strong similarities to East Asian and Middle Eastern cultures.
Outworld also houses a brewery, specializing in 'Outworld Wine', a favorite of master Bo' Rai Cho. It's often rumored amongst many Outworld inhabitants that Earthrealm's rice wine 'puts Outworld Wine to shame'. Commuters also ride the Dragonfly, which is said to be the fastest form of transportation across the vast expanses of Outworld, aside from sorcery and actual dragons. There are many of these flying transports, each with its own set of destinations.
Native Realm Species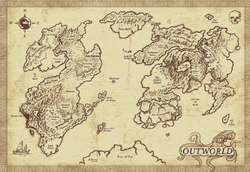 Due to Outworld's composite structure, not all races found on Outworld are truly native to it. In addition, many of Earthrealm's most wanted criminals have sought refuge in Outworld, most notably the Australian crime lord Kano. Texas-born mercenary Erron Black also resides in Outworld, having worked as a mercenary/right-hand man for several of its emperors.
Originally Native
Non-Native or of Uncertain Origin
Vampires - A race that has been a part of Outworld since its realm was annexed by Shao Kahn. They possess the ability to travel in between realms and are excellent record keepers. Contrary to other fictional vampires, they can move by daylight in most realms, although they are highly allergic to Earthrealm's sun. The realm Vaeternus, from which the vampires originate, was liberated from Outworld by Nitara in Deadly Alliance. Also known as Moroi.
Saurians - A virtually extinct, reptilian race that was once governed by a matriarchy on the realm of Zaterra. Originally from Earthrealm, the war between Raiden and Shinnok resulted in their displacement and subsequent settlement in Zaterra. Despite their ability to blend into their surroundings and exceptional talent as hunters, spies, and assassins, they are generally thought of as untrustworthy slaves.
Tarkatans - Also known as Mutants or Nomads, the Tarkatans are a nomadic, humanoid race feared for their barbarous nature and extreme bouts of rage. They are a mutant crossbreed of Netherrealm demons and Outworlders, and possess razor-sharp teeth and retractable metal blades in their forearms. They are notorious cannibals and exhibit animalistic behavior, with the men often flying into a murderous rage at the scent of a competing male. Although their demonic ancestors originated from the Netherrealm, the Tarkatans have long resided in the wastelands of Outworld. Following the events of the current timeline, due to the Tarkatans siding with Mileena during her rebellion, the Emperor at the time, Kotal Kahn, had the remaining Tarkatans exterminated, revealing later that the Tarkatan species had become extinct. The species would later be restored due to the time disruption caused by the Keeper of Time, Kronika.
Edenians - This race has inhabited Outworld ever since their native realm, Edenia, lost 10 consecutive Mortal Kombat tournaments to Shao Kahn's minions. Biologically similar to other humanoids, Edenians are rumored to be descended from the Gods themselves, explaining their extremely long lifespans, slow aging process, and natural affinity with magic. Although many returned to the liberated Edenia after the failed invasion of Earthrealm, some Edenians remained in Outworld, having few if any recollections of their native realm and unable to accept the place as home. Liberated Edenia is a diarchy ruled by Queen Sindel and her daughter Kitana, with loyal native Jade commanding the royal Edenian Knights. Since its liberation, Edenia has been a steadfast ally of Earthrealm and an enemy of Outworld. Edenian traitors and defectors include Rain, Tanya, and Daegon.
Cryomancers - An exiled Edenian race with a natural affinity for ice. Appearance wise, they tend to resemble very pale humans, often with icicle shards protruding from their bodies. Although they are now extinct, a few scattered descendants of this race live in Earthrealm, particularly Sub-Zero, Noob Saibot, and Frost. It is revealed in the current timeline that Sindel had banished the Cryomancers from Edenia long ago during her rule with King Jerrod, however how or when they died out remains unknown.
Osh-Tekk - A humanoid race with power over sunlight, and an acute vulnerability to darkness. They originate from the realm of Osh-Tekk, which was annexed by Shao Kahn millennia ago. Due to the efforts of Reiko and Goro, the Osh-Tekk race has been driven to near-extinction; Kotal Kahn is the sole surviving member after his father, Kotal K'etz, was slain. The leaders of the Osh-Tekk are painted in a blue paint.
Kytinn - A sentient race of colonial, insect-like humanoids from the island realm of Arnyek. Their realm was easily conquered by Shao Kahn due to its lack of defenses, and the Kytinn have lived in Outworld ever since. They grow from maggot-like larvae inside of victims' bodies, emerging from them as if they were a cocoon, at times within seconds of their implantation. The stronger the host of the Kytinn maggots, the stronger the resultant Kytinn will be. For example, a Kytinn emerging from one of the Elder Gods being nigh unstoppable. The only known Kytinn in the series thus far is the female warrior D'Vorah. No male members of this race have yet been seen.
Unnamed symbiotic race - A race typically found in the Tarkatan wastelands of Outworld. They consist of a "rider" and a "mount", with the latter dying off as soon as the former metamorphoses into a "mount". The only notable member of this race that has been seen thus far is Ferra/Torr.
The Naknada - A race of blue, six-armed humanoids who were used primarily as slaves by the Kahn. One Naknada, Kollector, ended up rising through the ranks and becoming one of Shao Kahn's most trusted advisors and tribute collectors.
Kafallah Warlocks - A race of powerful sorcerers who secretly influenced Outworld's Kahns. When they were exposed, they were all decimated.
Korlovens - Little is known about the Korlovens other than the fact the Shokans were the ones to exterminate them.
Qu'attons - A race similar to the Osh-Tekk, wiped out by Kotal K'etz.
Earthrealmers/Humans - Some Earthrealm humans have been known to reside in Outworld, although they are mostly mercenaries and wanted criminals seeking refuge from the authorities of their native realm. The Australian criminal kingpin and Black Dragon leader Kano is a notable example, having fled Earthrealm to escape the Special Forces. Erron Black, a mercenary from Texas, also resides in Outworld and has worked for several of its emperors. The sorcerer Shang Tsung is of Chinese origin, having betrayed his own realm in exchange for power.
Immortals - The former Emperor of Outworld, Shao Kahn, is the latest of Immortals to appear within both the original and current timelines. Despite his origins being unknown, he is a well known tyrant of the Outworld throne, ruling it for thousands of years. Before this, he was the advisor to the throne during the rule of Onaga, the Dragon King. In the original timeline, this role lead to the speculation that he served as an opposite counterpart to Raiden's role as the Protector of Earthrealm, Shao Kahn's being the Protector of Outworld. This also lead to the speculation of Shao Kahn being a God due to his strengths rivaling, or even being stronger than Raiden, the God of Thunder. After killing Onaga, seizing the throne and winning Armageddon, he remains the only surviving kombatant of the original timeline. In the current timeline, his Immortal traits are more visible, given it took the combined efforts of the Elder Gods empowering Raiden to finally stop the Outworld tyrant.
Non-Canon
Xenomorph - Parasitic extraterrestrial race that uses hosts of any species to expand their species.

Tarkatan Xenomorph - A Xenomorph born from a Tarkatan host.
Shokan Xenomorph - A Xenomorph born from a Shokan host.
Unidentified Xenomorph - A pair of Xenomorphs born from the symbiotic race of Ferra & Torr.
Notable Residents
Native
Non-Native
Alien (Non-canon guest character)
Armageddon Konquest Mode
Zealot Archer
Zealot Marksman
Skull
Kahn Champion
Kahn Guard
Kahn Defender
Raza
Kahn Impaler
Kahn Mace Fighter
Kahn Swordsman
Kahn Axe Wielder
Dungeon Dweller
Kahn Prisoner
The Excutioner
Kahn Guardian
Map Room Warden
Map Room Patrol
Locations
Realms Conquered by Outworld
Outworld's history has been largely defined by its conquest and merger of other realms. This process appears to have started with Onaga–or possibly earlier rulers–but it greatly accelerated under the banner of Shao Kahn, who valued conquest of new realms over governance of the territories he already controlled. The following are realms known to have been conquered and merged into Outworld, though it is likely that there are far more realms that have yet to be revealed.
Realms Known to Have Been Conquered by Outworld
Possible Additional Conquests
Tarkatan homerealm - Although originally described as a hybrid race bred from Outworlders and Netherrealm demons to serve Shao Kahn as soldiers, Baraka makes mention in Mortal Kombat X of a home realm that was conquered by Shao Kahn. However, dialogue between Shao Kahn and Baraka in MK11 sees Tarkatans referred to as "dogs, bred to serve", which appears to support the original origin of the species, leaving the canonicity of this realm unclear.
It additionally remains clear how many of the races of Outworld are original Outworld natives versus inhabitants of conquered realms, potentially indicated a large number of additional realms. There may also be a number of other realms that have yet to be seen and with no featured–or no surviving–native characters.
Relationships with Other Realms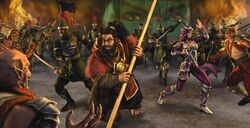 Long millennia under the rule of a tyrannical emperor has put Outworld at odds with most other worlds and their inhabitants. The realms which have been merged with it over the years could be loosely called allies, only due to the fact their inhabitants were forced into submission to the emperor's might. Many inhabitants of these conquered realms, in fact, seek to separate their realms from Outworld and regain their freedom. Due to 10,000 years of oppression under Shao Kahn following its annexation, Edenia has come to be a tenacious opponent of Outworld following its liberation. There is also little doubt that Earthrealm and Outworld are opposing realms; long did Kahn attempt to rule the realm through Mortal Kombat, and later through direct invasion during the time of MK3.
Citizens of Chaosrealm seem content to have Kahn rule Outworld (due to his aggressive nature) while the inhabitants of Orderrealm oppose his rule and the civil strife it has created. Under the rule of Onaga, the relationships between the two neutral realms were reversed, with the Orderrealm citizens contented with Outworld's rule and Chaosrealm inhabitants seeking the overthrow of the Dragon King. However, neither world can actively be called Outworld's ally in a true sense, because of the respective strict and chaotic natures of each world and their inhabitants.
The Netherrealm could be considered an ally under Kahn's rule, as he has forged acquaintances there himself, although it was invaded during the MK3 timeframe.
Appearance in Other Media
Mortal Kombat (1995 film)
Outworld made its appearance in the Mortal Kombat and its sequel, Mortal Kombat: Annihilation, as a vast mystical realm with a dark, yet clear purple sky, crumbled cities with heads of huge broken statues, demonic torch-holding statues on Outworld's broken streets and roads, and even frightened human-like Outworlders living in fear under the reign of Shao Kahn.
In the first film, Liu Kang and Johnny Cage travel there by portal to rescue Sonya Blade after she was captured by the sorcerer Shang Tsung while Johnny battled the Shokan prince Goro. After Liu Kang defeats the Zaterran Reptile who was secretly following him and Johnny, Kitana joins forces with them and guides them safely through Outworld's landscape. She explains the realm's origins as a once beautiful, majestic world before the Emperor (Shao Kahn) took it over after defeating her father's best warriors in ten consecutive Mortal Kombat Tournaments. After they rescue Sonya and defeat Shang Tsung, all four of them returned to Raiden in Earthrealm, seeking to enjoy relative peace for the next generation. This hope quickly vanishes when Shao Kahn launches a direct invasion, and they are forced to defend Earthrealm from the invading Outworld army.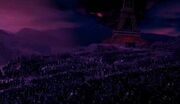 After Emperor Shao Kahn of Outworld breaks the sacred rules of Mortal Kombat and opens portals to Earthrealm, launching a direct invasion, Raiden and his warriors along with Princess Kitana of Outworld, Sonya's old partner Jax Briggs and the mysterious stranger named Jade (later revealed as a traitor in the movie) take their fight to Outworld. When they arrived, they see broken roads and ruined cities of the Earth colliding with the native landscape as the realm is merged into Outworld.
Mortal Kombat: Defenders of the Realm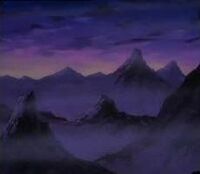 Outworld made another appearance in the animated cartoon series of Mortal Kombat: Defenders of the Realm as once a majestic realm turned into a dangerous and oppressed world under the iron fist of Shao Kahn the Konqueror.
Mortal Kombat: Conquest
Outworld has also made its one more appearance in the television series Mortal Kombat: Conquest as an ancient realm whose people are living in dark times with Shao Kahn reigning supreme as its emperor.
Mortal Kombat (2021 film)
Outworld appears in the 2021 film Mortal Kombat as the home world of Shang Tsung and his forces and the antithesis of Earthrealm. In the film, Shang and the forces of Outworld are just one Mortal Kombat victory away from being able to invade and subsume Earthrealm. This is greatly desired by Shang Tsung, as Outworld has decayed into a dying wasteland, making Shang even more desperate.
Trivia
According to the contact page on Midway Games' website, there is a Midway office in Outworld (though not listed with the other offices, it is included in a montage of pictures depicting cities which are home to a Midway studio or office).
Outworld is nearly always depicted as being almost uniformly purple in color.

This was referenced in Mortal Kombat X when Jacqui Briggs comments on her expectations of Outworld before actually visiting the realm, saying she expected "the sky to be purple or something".

In Mortal Kombat X, in the Arcade Ending of the guest character Alien, the Tarkatan-Xenomorph and its newly formed hive overwhelm Kotal Kahn and his forces, eventually taking over Outworld in the process.
Gallery