No Man's Sky Update - The Loop
Play Sound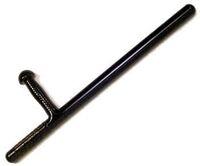 The Nightstick is a non-lethal weapon. It is carried as a compliance tool and defensive weapon by law-enforcement officers, correctional staff, security guards and military personnel. In many cultures, they are highly symbolic of law enforcement and are rarely used with the intention to kill.
In Mortal Kombat
Officer Kurtis Stryker uses one, befitting his position as a New York cop in Mortal Kombat 3 (and its updates).
Though, the nightstick is only used as a single baton, Stryker uses a pair of Nightsticks in Mortal Kombat: Armageddon. They are fundamentally the same as Jax's Tonfa, and similar to Tanya's Kobu Jutsu.
In Mortal Kombat: Defenders of the Realm, the nightstick is not only Stryker's weapon of choice, but also functions as a gadget he uses to seal portals leading to Outworld.
In Mortal Kombat (2011), he wields the Nightsticks during gameplay and uses it with combos, special moves and his X-Ray Move. However, they were always called Batons rather than Nightsticks in this game.
In Mortal Kombat X, Cassie Cage wields an extendable nightstick, using it in many of her kombos, her X-Ray and her "Selfie" fatality.