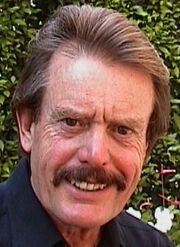 Theodoric Neilson
"
Neil
"
Ross
(born on December 31 1944) is an English voice actor and announcer, born in London, England and now resides and works in Los Angeles, in the United States. He has provided voices (mainly minor characters) for many American cartoons, particularly those based on Hasbro products and Marvel Comics, and numerous video games. Ross has also provided voice roles (such as radio announcers) for many movies, including
Back to the Future II
,
Babe
,
Quiz Show
, and
Being John Malkovich
. Ross also portrayed characters in a few of Don Bluth's Movies, composed of An American Tail, Thumbelina, and Pebble and the Penguin.
Neil Ross has announced many Emmy Award ceremonies, and started announcing at the Academy Award ceremonies, beginning with the 75th Annual Academy Awards, in 2003. He has also narrated numerous episodes of A&E's Biography, and many editions of NOVA on PBS (including Mars - Dead or Alive, which was nominated for an Emmy Award in 2004). He is presently the voice of the cable TV channel Game Show Network. and announcer of the 2019 version of Press Your Luck.
He voiced Shang Tsung (and possibly Motaro) in the animated series Mortal Kombat: Defenders of the Realm.
External links
Community content is available under
CC-BY-SA
unless otherwise noted.