Mortal Kombat (commonly abbreviated MK) is a popular series of fighting games created by Midway, which in turn spawned a number of related media. It is especially noted for its digitized sprites (which differentiated it from its contemporaries' hand-drawn sprites), and its mix of bloody and brutal action; its graphic Fatality killing moves contributed to the founding of the ESRB.
The original Mortal Kombat was developed as a reaction to the popular Capcom fighting game Street Fighter II, with simpler controls and digitized graphics. The original idea of Mortal Kombat was thought up in 1989 along with storyline and game content, but not put to arcades until 1991 (and game systems). Some say the game's graphic violence was gratuitous, and was only included in order to generate a public outcry and controversy that would garner publicity for the game. Although highly controversial, the mix of realism and violence propelled Mortal Kombat to widespread and historic renown.
Mortal Kombat X: Official Kombat Pack 2 Gameplay (1/12/16)
Factions

Real-world info

External links

Updates and ports

Adventure Games

Film

Television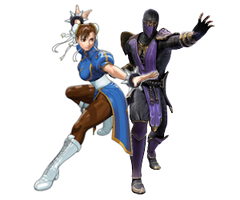 Blogs & Forum
Create blog post
Blog Activity

Hello again MK Wiki!

We had a chance last week to sit down with Brian Goodman, Marketing Game Manager at NetherRealm Studios, and ask him some of your questions about Mortal Kombat X. We also had a chance to spend some hands-on time with the game and check out the new Faction Wars mode.

The Faction W…

Read more >


Check out the answers to your questions, and learn about the Living Tower and Faction Wars modes in MKX, right here!


Hey everyone!

Good news! We may have an upcoming opportunity to talk with NetherRealm about Mortal Kombat X next week, and we'd like to get as many questions about the game from the com…

Read more >
See more >
Which character do you prefer the most out of Kombat Pack 2?