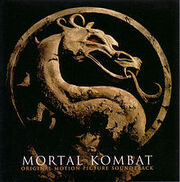 Mortal Kombat Soundtrack is a compilation album featuring music by different artists to accompany the movie Mortal Kombat. This was released together with Mortal Kombat Motion Picture Score.
Track by order of appearance in the movie
"Mortal Kombat (Techno Syndrome 7" Mix)"

Main title sequence
Liu Kang, Johnny Cage and Sonya vs. Shang Tsung's masked guards
Liu Kang vs. Shang Tsung
Raiden, Liu Kang, Sonya, Kitana and Johnny Cage prepare for battle against Shao Kahn and it continues through the end credits

"What U See/We All Bleed Red"

Sonya and Jax track down Kano in the nightclub

"Can't Happen Here" (not included in soundtrack)

Liu Kang returns to the Temple of Light

"Lost" (not included in soundtrack)

The Earth warriors get in the boat to Shang Tsung's island
Liu Kang and Johnny Cage enter Outworld to rescue Sonya and fight Shang Tsung

"A Taste Of Things To Come"

Sub-Zero's demonstration against a masked guard

"Lies" (not included in soundtrack)

Liu Kang's first battle in the tournament

"Juke-Joint Jezebel (Giorgio Moroder Metropolis Mix)"

Sonya vs. Kano

"Zero Signal"

Johnny Cage vs. Scorpion

"Twist the Knife (Slowly)"

Plays briefly when it shows different warriors being thrown to the ground by Goro.

"Goro vs. Art"

Goro vs. Art Lean
Credits

"Control (Juno Reactor Instrumental)"

Liu Kang vs. Reptile

"Demon Warriors/Final Kombat"

Liu Kang vs. Shang Tsung and the souls of the thousand dead warriors

"Halcyon + On + On"

The souls absorbed by Shang Tsung being released and it continues to when Liu Kang, Sonya, Johnny Cage and Kitana return to Earth to celebrate their victory and are thanked by Raiden

"Goodbye (demo)"

Credits

"Utah Saints Take On The Theme From Mortal Kombat"

Credits
Mortal Kombat (soundtrack)
Community content is available under
CC-BY-SA
unless otherwise noted.