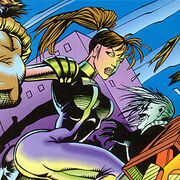 Lieutenant Mikka Stone
or Lt. Mikka Stone is a character who appeared in the
Mortal Kombat Special Forces
Comics
. Mikka is a member of
Jax's
squad, along with
Sonya Blade
,
Sylence
,
Torque
and
Vapor
. According to the comics, Mikka uses
Twin Katanas
as weapons. In the second comic "
Secret Treasures 2
", Mikka and Jax are held captive by a member of the
Black Dragon
named
Rojack
, who was trying to steal an artifact called the
Kitai
, which is said to be an ancient artifact that was created by the gods. In this case, it could open a portal to other realms. Rojack succeeds in receiving the Kitai, but his success is short lived when he opens up a portal to
Outworld
, where he remained trapped. In the comic, Mikka is said to be very fast and dangerous. Mikka is also an expert in the art of swordmanship.