Welcome to the Mortal Kombat Wiki, TheInmortalRobert!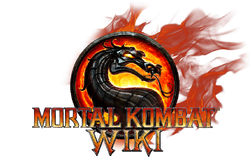 Welcome and thank you for your contributions! There's a lot to do around here, so we hope you'll stay with us and make many more improvements.
Questions? Check out the help page or ask a question at the forums or on a "discussion" page associated with each article! Otherwise, just ask any of the administrators.
Need help? The Community Portal has an outline of the wiki, and pages to help you learn how to edit.
Need stuff to do? When you're ready to start editing, there's plenty of articles that need work located here.
Signing: Please be sure to sign your name on Talk and vote pages using four tildes (~~~~) to produce your name and the current date, so users know who they are talking to.
We're happy to have you here, and look forward to contributing with you!

Signed Smoke., CavalierTunes, Kuro Selas, Byakuya, Gunblazer, Dragon NJMB and Shadows Twilight .
Categories.
Edit
I'd just like to mention the categories you're currently adding are unnecessary could you please refrain?—Riley Heligo 20:45, March 23, 2013 (UTC)
Of course! But to be honest, it seems like there are a lot of categories we don't need. Do characters really need to be categorized as "MK (So&So) Characters" 10-20 times? I know the categories are at the bottom, but I feel it makes far more category pasges than necessary. Most characters return with each installment and update, and their appearances are listed up top.—TheInmortalRobert (talk) 20:51, March 23, 2013 (UTC)
Most wikis tend to use a system like that, I myself have never truly understood the reasoning for them I guess some people don't bother reading the "appearance" part of the infobox and soon wonder what game "X" is in so they scroll down and realise they're in "Y".—Riley Heligo 20:56, March 23, 2013 (UTC)
If that's how things work on this wiki, that is fine by me. TheInmortalRobert (talk) 21:00, March 23, 2013 (UTC)
Disagreements
Edit
You both are rights, and wrong at the same time.
While the wiki really possess Trivia just like Viclnolan is telling, they are trying to remove this kind of trivia from the pages now. So, stop fighting, if the Trivia is really wrong, leave it for the admins to correct it. GleidsonMK (talk) 18:52, April 25, 2013 (UTC)  
Enough with the deleting
Edit
If you want to do some mass "trimming" take it up with an admin first. You can't just get rid of it because you think it doesn't belong (unless it's intentional vandalism/trolling).
--Byakuya The Slayer of Colossi 06:29, April 26, 2013 (UTC)
Sorry! TheInmortalRobert (talk) 06:30, April 26, 2013 (UTC)
Finally someone that could make him understand. Viclnolan (talk) 06:34, April 26, 2013 (UTC)
Thank you, Byakuya GleidsonMK 06:35, April 26, 2013 (UTC)
Any other edits you have left that include trivia deletion should be reverted, it doesn't matter who does it as long as it's done, I can't since I'm about to leave.
--Byakuya The Slayer of Colossi 06:37, April 26, 2013 (UTC)
I'll undo them, they were my contributions and I'll notice which edits were more constructive. But there's a lot of them haha. TheInmortalRobert (talk) 06:56, April 26, 2013 (UTC)
Community content is available under
CC-BY-SA
unless otherwise noted.