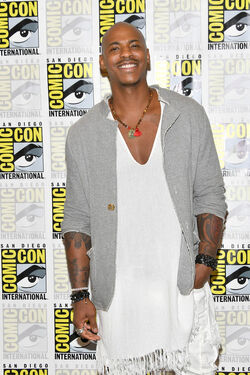 Mehcad Brooks (born October 25, 1980) is an American actor and former fashion model who portrayed Jax Briggs in Mortal Kombat. Brooks is best known as Matthew Applewhite in the second season of ABC's series Desperate Housewives, Jerome in The Game, his leading role as Terrance "TK" King in the USA series Necessary Roughness and James Olson in the CW series Supergirl.
Trivia
Having long been a fan of the Mortal Kombat, Brooks called it a "dream come true" to be able to play Jax Briggs.
In the documentary "From Game to Screen", Brook mentioned that he once dressed up as Scorpion for Halloween.
External links