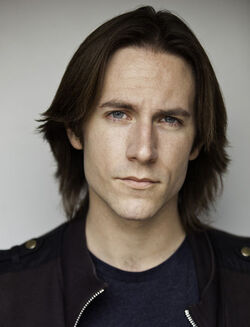 Matthew Mercer (born June 29th 1982 in Palm Beach Gardens, Florida, USA) is an American voice actor, who has lent his voice in many video games and in only one animated series, Thundercats. His alternate names are Matt Mercer, Matt Miller, Masamune Miller and Matt "Masamune" Miller.
Roles
He's best known for voicing Tygra in the 2011 series of Thundercats, and is also known for voicing Fei Long in Street Fighter IV and its updated sequel, Super Street Fighter IV. He also has recently voiced Z.W.E.I. in Soul Calibur V. Beside that, he has voiced famous Leon Scott Kennedy in both Resident Evil 6 and animated movie Resident Evil: Damnation.
Mortal Kombat
In Mortal Kombat (2011), Matthew does the voice of Kurtis Stryker.
Mercer later reprise his role as Striker and voice Smoke in Mortal Kombat Legends: Battle of the Realms.