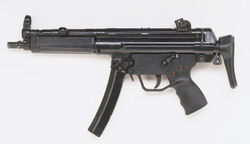 A Machine Gun is a fully automatic mounted or portable firearm, usually designed to fire rounds in quick succession from an ammunition belt or large-capacity magazine, typically at a rate of several hundred rounds per minute so long as the trigger is held down. It is not a select-fire weapon; machine guns are usually full auto only.
In Mortal Kombat
Machine guns are used by police and military forces in Earthrealm. Jax Briggs has been known to use a Machine Gun in many of his appearances throughout the franchise. Officer Kurtis Stryker and Jax also had the weapon in Mortal Kombat: Armageddon.
Deathstroke is seen using a machine gun in Mortal Kombat vs. DC Universe.
In the storyline of Mortal Kombat (2011), Kano and his Black Dragon thugs stole a large number of high-tech weapons including machine guns and rocket launchers, and sold them to Shao Kahn, Shang Tsung and the Tarkata, aiding them in the Konqueror's new war on Earthrealm.
Gallery
Community content is available under
CC-BY-SA
unless otherwise noted.