The Machete is a one-handed broad blade used either as an implement like an axe, or in combat like a short sword.
In Mortal Kombat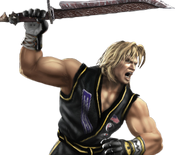 The weapon is used by Kobra in Mortal Kombat: Armageddon. It replaces the Kali Sticks he had in Mortal Kombat: Deception, which are given back to Sonya Blade, as she wielded them in Mortal Kombat: Deadly Alliance. The Machete was supposed to be a weapon given to Kai but he was given the Spiked Club instead.
Kobra's version of the Machete shares similar attacks to Ashrah's Kriss. The machete has a large, thick, heavy, somewhat rusty and razor sharp blade, capable of cutting easily through flesh, bone and armor in a quick swing. It also appears to have an antler or some other type of horn on it's pommel.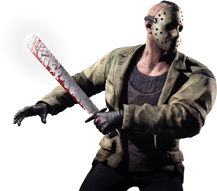 In Mortal Kombat X, the guest character Jason Voorhees uses a machete, his signature weapon in Friday the 13th films. Jason only uses his machete in his Slasher variation, however he always uses it during one of his intros, X-Ray, and his Kill For Mother Fatality.
Gallery