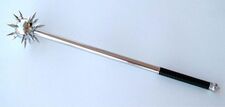 A mace is a blunt weapon, a type of club or virge that uses a heavy head on the end of a handle to deliver powerful strikes.
In Mortal Kombat
This weapon was used by the Netherrealm's great sorcerer Quan Chi in Mortal Kombat 4 and Mortal Kombat Gold.
This weapon is also really similar to Havik's Morning Star.
Several of Shao Kahn's Extermination Squads wielded versions of these weapons.
The Oni Warlords of Shaolin Monks, mainly carry huge club-like maces that are so large that when they are slammed into the ground they cause shockwaves.
In Mortal Kombat 11, guest character Spawn uses a modified mace alongside his sword and battle axe during gameplay. It is also used in his Soul Shattering War Club special attack which allows Spawn to break forms of armor the opponent can use against him. He also uses it during his Forward Throw.
See Also