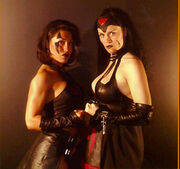 Lia Montelongo (born February 10, 1975 in Chicago, Illinois, USA) is an American actress, the youngest to work in a Mortal Kombat video game. She started working on Mortal Kombat 3 at the age of 19 as Sindel. In 1997, she played Tanya in Mortal Kombat 4. In 1998, she played Sareena in Mortal Kombat Mythologies: Sub-Zero, and was romantically involved with actor Brian Glynn (who played Shao Kahn) from then until 2001.
In 1998, she was cast in the starring role of Lisa in the horror-satire feature film Shower of Blood, released in 2004.
Lia Montelongo and Kerri Hoskins Branson appeared as secret characters in Midway's 1999 basketball game NBA Showtime: NBA On NBC.
Currently, she lives in Los Angeles, California.
Filmography
Gallery
External links