Fire Emblem Warriors: Three Hopes - The Loop
Play Sound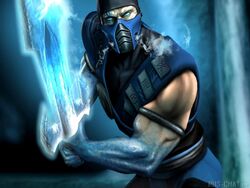 The Kori Blade is Sub-Zero's weapon of choice in Mortal Kombat: Deadly Alliance, Mortal Kombat: Deception, Mortal Kombat: Armageddon, Mortal Kombat vs. DC Universe, Mortal Kombat (2011), Mortal Kombat X and Mortal Kombat 11. Replacing his Ice Scepter from MK4 and MK: Gold. The weapon was first introduced as his weapon style in MK: Deadly Alliance.
The blade itself is made by Sub-Zero's freezing water vapor, manipulating it so that it forms the shape of the sword, hence its name; "Kori" derives from koori (氷), which is Japanese for "ice".
Oddly, In Deadly Alliance, Deception and Armageddon, despite the sword being made of ice, it doesn't shatter when used. This might possibly be due to the enhanced powers of Sub-Zero thanks to the Dragon Medallion, allowing him to keep his weapon from breaking or melting, while also making it just as strong and sharp as a real sword. However, in it's later appearances such as in MK (2011), the weapon shatters quite easily after use. This could just be a game mechanic or it could be that Sub-Zero's powers are not yet strong enough to maintain the blade this early in the timeline.
In his cybernetic form, Sub-Zero can create a larger version of the Kori Blade in the form of a large sword, though the shape differs from its form from the original timeline and the Kori Blade his human form uses.
In the original timeline, Sub-Zero's Kori Blade had a resemblance to a very large broadsword but starting from the new timeline in MK (2011), the Kori Blade was given a curved blade resembling a katana while also having an elaborate hilt. He would continue to use this form of he Kori Blade from MKX and onwards, although with differing appearances.
Trivia
Movelist
Deadly Alliance
| | | | |
| --- | --- | --- | --- |
| Move | GameCube | Playstation 2 | Xbox |
| Overhead Swing | B | Square | X |
| Ducking Moon | Down, B | Down, Square | Down, X |
| Spinning Slash | Back, B | Back, Square | Back, X |
| Overhead Smash | Up, B | Up, Square | Up, X |
| Blade Lunge | Y | Triangle | Y |
| Straight Stab | Down, Y | Down, Triangle | Down, Y |
| Close Swipe | Back, Y | Back, Triangle | Back, Y |
| Stomp Kick | A | X | A |
| Downwards Stab | Down, A | Down, X | Down, A |
| Back Kick | X | Circle | B |
| Sweep Kick | Back, X | Back, Circle | Back, B |
| Twisting Blade | Down, X | Down, Circle | Down, B |
| Impale | L | L1 | LT |
| Cut Up | X, X | Circle, Circle | B, B |
| Bitter Blade | B, Back, B | Square, Back, Square | X, Back, X |
Deception
| | | |
| --- | --- | --- |
| Move | Playstation 2 | Xbox |
| Thigh Ripper | Down, X | Down, A |
| Back Kick | Circle | B |
| Sweep Kick | Back, Circle | Back, B |
| Crouching Slash | Down, Circle | Down, B |
| Bitter Blade | Square, Back, Square | X, Back, X |
| Overhead Swing | Square | X |
| Downward Stab | Down, Square | Down, X |
| Spinning Slash | Back, Square | Back, X |
| Overhead Slash | Up, Square | Up, X |
| Blade Lunge | Triangle | Y |
| Icy Lift | Back, Triangle | Back, Y |
| Kori Uppercut | Down, Triangle | Down, Y |
| Frosty Slash | X | A |
Armageddon
| | | |
| --- | --- | --- |
| Move | Playstation 2 | Xbox |
| Overhead Swing | Square | X |
| Spinning Slash | Back, Square | Back, X |
| Overhead Strike | Up, Square | Up, X |
| Downward Stab | Down, Square | Down, X |
| Blade Lunge | Triangle | Y |
| Icy Lift | Back, Triangle | Back, Y |
| Kori Uppercut | Down, Triangle | Down, Y |
| Frosty Slash | X | A |
| Sweeping Steel | Back, X | Back, A |
| Thigh Ripper | Down, X | Down, A |
| Back Kick | Circle | B |
| Sweep Kick | Back, Circle | Back, B |
| Crouching Slash | Down, Circle | Down, B |
| Bitter Blade | Square, Back, Square | X, Back, X |
| Thrash Out | Square | X |
| Bogie | Triangle | Y |
| Long Legs | X | A |
| Spinning Leg Grab | Circle | B |
| Rebel | Square, Square | X, X |
| Airborne Kick | X, X | A, A |
| Fresh Air | Square, Square, Square | X, X, X |
| Spinning Attack | Square, Square, Triangle | X, X, Y |
| Lucky Wind | Square, Square, X | X, X, A |
| Somersault | X, X, Triangle | A, A, Y |
| Flip Down | Square, Square, Circle | X, X, B |
| Boot to the Face | X, X, X | A, A, A |
| Pincer Throw | X, X, Circle | A, A, B |
| Guiding Light | Square, Square, X, X | X, X, A, A |
| Zero Gravity | Square, Square, X, Circle | X, X, A, B |
Gallery