Raise a Floppa - The Loop
Play Sound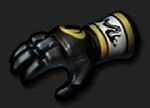 Kobra's Boxing Gloves are a pair of special boxing gloves used by the Black Dragon member Kobra, first appearing along with him in Mortal Kombat: Deception and later reappeared as collectible Relics named Kobra's Gloves in the Konquest mode of Mortal Kombat: Armageddon.
These boxing gloves are worn by Kobra when he's fighting his opponents for the thrill of the fight. These gloves emphasize the feeling of splintering bones.
Kobra continues to wear them, only this time as the new member of the newly-reformed Black Dragon crime syndicate under the leadership of Kabal, the same man whom recruited both Kobra and Kira into the organization in the first place.
They make an appearance in Mortal Kombat Mobile and Mortal Kombat 11 as an Equipment Card and as a modifier in the Towers of Time, called Kobra's Boxing Gloves and Kobra's Hand Guards, respectively.
In MK Mobile, it increases resistance to Slow and Stun effects while also increasing Basic Attack damage by 50%.
In Mortal Kombat 11, it appears as a consumable that causes the opponent to be pulled closer to the user upon landing punch-based attacks.
Trivia
Kobra's Boxing Gloves in MK Mobile is one of the many Equipment Cards given through the Black Dragon Tower.
The wording of how Kobra's Hand Guards works as a konsumable: "Your punches SUCK..." could be a reference about how Kobra is considered to be one of the more disliked characters in the franchise.
Gallery