Fire Emblem Warriors: Three Hopes - The Loop
Play Sound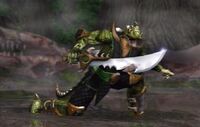 The Kirehashi is an ancient blade and a lost relic with a connection to the Saurian race. The Vampire Nitara gives the Kirehashi to Reptile, who wields it in Mortal Kombat: Deadly Alliance and Mortal Kombat: Armageddon.
This sword is another, yet only known artifact from the Raptor civilization of Zaterra alongside Reptile's ancient medal. Reptile's Kirehashi blade was given to him by the Vampire Nitara to use against a cyborg invader from Earthrealm. But before that could happen, Reptile suddenly went into a blind rage, swinging his Kirehashi sword around while Nitara defended herself until Reptile awoke from this strange delirium and came to his senses. He then chose to serve Nitara since his old master was supposedly eliminated by the Deadly Alliance.
The Kirehashi looks to be a single edged, one-handed weapon with a curved handle. These details are parallel to the Chinese Broadsword or Dao considering Reptile's bent knees during the form. This works well in conjunction with his chinese open-handed style.
Gallery