watch 02:05
Wiki Targeted (Games)
Play Sound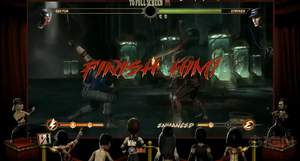 King of the Hill is an online mode in Mortal Kombat (2011), somewhat resembling the spectator view present in Dead or Alive 4, this mode differs in that observers are given the ability to interact directly with those currently engaged in battle. Bystanders have the option to boo, cheer, and perform actions based on the fight taking place (such as throwing a tomato at the screen, or holding up a piece of cheese). Kombatants earn Respect Points based upon the recently played match, with spectators given the opportunity to rate the winner of the battle 0.0 out of 10. After the ratings have been awarded, the loser leaves the stage and joins the spectators while the next person in line fights the new/defending king.
Xbox 360 owners are able to import their Xbox Live avatar directly into the mode, while PlayStation 3 owners use the default character avatars.
In between games, players are able to join King of the Hill rooms. Players are able to jump in and out of King of the Hill rooms easily, without interrupting gameplay. However, the avatar they use is not seen until the next round is over.
Both players and spectators also have the ability to block out the other spectators by activating full screen. This is done by pressing BACK on Xbox 360 and SELECT on PS3.
Trivia
King of the Hill can support up to 8 players.
Aside from the basic four actions (Cheer, Approve, Disgust, and Boo), there are different variations of the actions that include clapping or yelling "FIGHT!" These "Special Actions" require special button input sequences to activate, similar to special moves in-game. A list of Special Actions are follow below:
1: down, up, Y / Triangle
Curse: up, up, B / O
Yell "FATALITY!": up, up, right, right, X / Square
Yell "FIGHT!" left, right, X / Square
Yell "FINISH HIM!" left, right, left, right, Y / Triangle
Laugh: down, up, down, A / X
Say "I'm not worthy": down, down, Y / Triangle
Clap: right, up, Y / Triangle
Cheesy: left, up, down, B / O
Cover face: left, right, B / O
Devil horns: down, up, X / Square
Summon diamond: up, down, left, Y / Triangle
Double devil horns: up, down, Y / Triangle
Summon ice: right, right, right, left, Y / Triangle
Hop: up, up, X / Square
Lighter: down, down, up, up, X / Square
Point/look away: right, right, X / Square
Raiden pose: left, left, right, right, X / Square
Shake head: left, right, A / X
Sleep: down, down, down, B / O
Stink wave: right, left, B / O
Stretch: up, down, down, B / O
Throw tomato: down, down, down, up, A / X