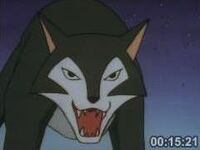 Kiba is the faithful pet wolf and ally of the warrior Nightwolf. So far, Kiba has only appeared in the animated series Mortal Kombat: Defenders of the Realm.
About Kiba
In Mortal Kombat: Defenders of the Realm, Kiba acts as Nightwolf's spirit wolf, although he also doubles as a friendly and playful pet. While his loyalties are bound to Nightwolf, he keeps friendly company to any and all are left to guard the Cave alone while the rest of Earthrealm's defenders are out fighting.
Kiba's most prominent role is acting as Nightwolf's source of power, turning him into an avatar and giving him his powers and face marking. Kiba initially had an uneasy relationship with Stryker, but later became his friend.
A spiritual wolf appears in Nightwolf's MK 2011 ending, and though it is not confirmed to be Kiba, it seems to take inspiration from him.
In MK11, Kiba appears as a spirit animal of Nightwolf, summoning him will increases his strength and gain armor if amplified.
Gallery
Community content is available under
CC-BY-SA
unless otherwise noted.