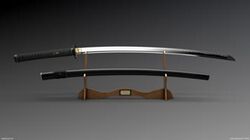 A
katana
(not to be confused with
Kitana
) is a Japanese single-edged sword, developed between the Heian era to the Edo era. A katana was forged by a sword smith who smelted Japanese sand iron, called Tamahagane, removing impurities by folding the blade over and over. Katana were known for being incredibly sharp and versatile
weapons
, though they have to be meticulously taken care of.
The ancestor to the katana, the tachi, was a long cavalry sword worn edge down, accompanied by a shorter sword called the uchigatana, in a manner similar to the wearing of the daishō, the katana and the wakizashi.
Kenshi wields the katana Sentō, although he has no formal training in Japanese swordsmanship, whereas Scorpion (who uses a similar, but straight, Ninja Sword) practices Mugai Ryu.
Masked Guards use a katana. However, in Mortal Kombat (2011), they have no katana.
Gallery
Community content is available under
CC-BY-SA
unless otherwise noted.