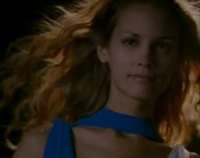 Geneviere "Jen" Reyland was the daughter of Baron Reyland, and the girlfriend of Kung Lao.
She is a beautiful girl who has apparently known Kung Lao for many years. Her father is completely against his daughter's interest with the martial artist, saying that since Jen is his 'property' she can only be 'taken' by a man with wealth. The reason for her father's grievance about his daughter having to marry a rich man is revealed in the seventh episode; the Baron was in great debt from borrowing money from the Black Dragon Clan (it is never revealed whether his daughter knew about this or not) and had to have her marry a rich man in order to help pay off the debts. Jen is in love with Kung Lao, so much so, that she defies her father's wishes and attempts to elope with him. She unfortunately dies at the hands of Scorpion, but her final request was for Kung Lao to inherit her home, which he and his comrades have used as a base of operations for the rest of the series.
In Unholy Alliance she appears again, but this time as only an illusion created by Shang Tsung and Quan Chi.
Gallery
Community content is available under
CC-BY-SA
unless otherwise noted.