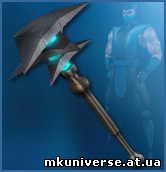 The Ice Scepter is a weapon used by Sub-Zero in Mortal Kombat 4 and Mortal Kombat Gold. It was later succeeded by the Kori Blade in Mortal Kombat: Deadly Alliance.
It is also a weapon that is found within the Lin Kuei Palace that would instantly freeze an enemy upon contact in the Konquest mode of Mortal Kombat: Armageddon.
Trivia
The Ice Scepter was the second weapon used by Sub-Zero in Mortal Kombat 4. In the first versions of the game, Sub-Zero used the same Long Sword weapon used by Scorpion, before being replaced by the Ice Scepter in revision 2.
The Ice Scepter (named Kuai Liang's Scepter) returns in Mortal Kombat Mobile as a Lin Kuei Tower equipment item. It can only be collected upon completing the Lin Kuei Tower, being one of the two pieces of equipment that Diamond Sub-Zero needs to perform a Brutality.
Gallery
Community content is available under
CC-BY-SA
unless otherwise noted.