No Man's Sky Update - The Loop
Play Sound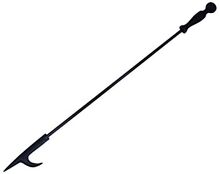 The Hot Poker, also known as a fire poker is metal instrument used to tend a fire. It is usually a short rigid rod made of metallic fireproof material and has a point at one end for pushing burning materials (or a hook for pulling/raking, or a combination) and a handle at the opposite end, sometimes with an insulated grip. 
In Mortal Kombat, it is a tool, torture device, and a weapon found within the Fire Well stage in Mortal Kombat: Armageddon.
In Mortal Kombat: Conquest, Shao Kahn's Shadow Priests continuously uses these hot pokers among other tools as a method of torture in their interrogation of prisoners, traitors and captured enemies. The Fire Poker is not a primary weapon for any character.