A
Hand Gun
is a one-handed firearm, also known as a pistol.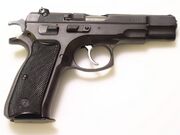 Kurtis Stryker uses a Hand Gun (also handgun) as one of his weapons in most of his playalbe appearances, such as in Ultimate Mortal Kombat 3 and Mortal Kombat Trilogy. He uses this firearm for moves like Gun Blast. It is his issued gun, since he is part of the police force.
Johnny Cage is able to pull out a Pistol while wearing his Tuxedo costume in Mortal Kombat 4, an accompanying accessory to his Secret Agent movie image. The weapon does not fire bullets, but instead fires bolts of energy similar to the crossbow used by Fujin.
Jax could use the Hand Gun weapon in Mortal Kombat: Special Forces, as a pick-up item.
In Mortal Kombat vs. DC Universe, hand guns are used by Deathstroke and The Joker uses a revolver as a special move.
In Mortal Kombat (2011), Stryker uses the weapon, but in a single-round manner under the name Gun Shot. When enhanced, Stryker will use two pistols that will fire once the buttons are released by the player.
In Mortal Kombat X, a hand gun is used by Cassie Cage, Stryker and Erron Black (Although Erron Black uses revolvers).
In Mortal Kombat 11, a hand gun is used by Cassie Cage, Erron Black and Sonya in the game's story mode.
Gallery
Community content is available under
CC-BY-SA
unless otherwise noted.