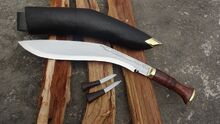 The Gurkha Knife, or Kukri, is a heavy, curved Nepalese knife used as both a tool and a weapon. It is also a part of the regimental weaponry and heraldry of Gurkha fighters.
Mortal Kombat
Kai makes use of this weapon in Mortal Kombat 4 and Mortal Kombat Gold, before switching to Raiden's staff.
In Mortal Kombat 11, a pair of Kukris are also a part of the Kollector's arsenal. Going alongside his sickle, flail, mystic beacon, bolas, chakram and etc.
Gallery
Trivia
Some of Kano's Shanks bear a resemblance to a Kukri.