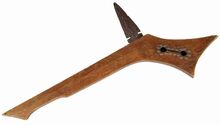 A Gunstock War Club is an indigenous weapon used by Native Americans, named for its similar appearance to the wooden stocks of muskets and rifles of the time. Gunstock clubs were most predominantly used by Eastern Woodland, Central and Northern Plains tribes in the 18th and 19th centuries.
They were usually made of straight grain hardwoods like maple, ash, oak, hickory or hornbeam, and weighed from two to three pounds.
The lethality of the club was further increased by the addition of a short spear point or one or more blades positioned near the elbow of the club. Blades could be made of flint, horn, or iron.
In Mortal Kombat
It is used by Nightwolf in Mortal Kombat 11 as his secondary weapon.
Community content is available under
CC-BY-SA
unless otherwise noted.